Holiday Club Activities
October Holiday Club Activities
Wow where did the summer holidays go? It only seems like 5 minutes since we finished the last school year and here we are at the end of the holidays ready to start the next school year off!
Our next holiday club will be the October half term holiday, as far as we are aware we will be back at our usual base of St Joseph's and St Theresa's in Burntwood. If this changes in the meantime we will of course let you all know.
IF YOU REQUIRE A SPACE PLEASE FEEL FREE TO BOOK IN WITH US FROM NOW!
You can either e-mail us on jozone.office@googlemail.com, speak to your club manager or fill in and return a booking form which you can find under the info tab on the website.
At The Club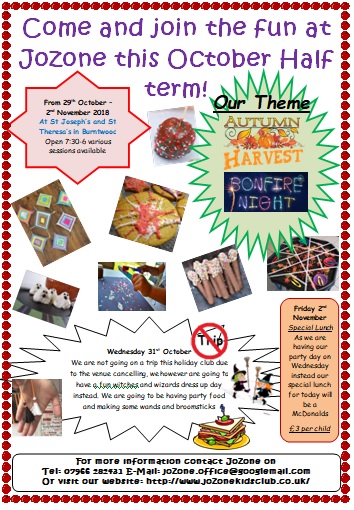 We have decided it is Witches and Wizards' Fancy dress day. So feel free to come dressed up for the day. We will be doing all sorts of fun activities and having some party food for lunch.
Please be aware that we are no longer providing a hot snack style tea in the afternoons. We found that we never had a lot of interest in it.
Just a note that we go outside most days during the holiday club to get some fresh air and let the children have a bit of a run around (depending on the weather of course) please could you ensure that your children come into holiday club with coats to keep warm in cooler weather and suitable footwear so that they can run around outside. Could we also ask that sunhats and sun cream is supplied on hot days.
Thank you
On the Fridays
Every Friday during holiday club we have a special lunch this could either be Dominoes, Chippy, McDonalds, party/buffet style lunch or KFC. 
This holiday club as we are already having party food on Wednesday we are going to be having a McDonalds for lunch.
Please note there is a small additional cost for these Special lunches usually £3 per child, if it is any different you will be informed.
Trip Days
Due to increased costs of the coach and the venue cancelling we are not doing a trip this October half term, we are currently doing some research into other places to go for trips next year, we will let you know about it all when we have researched and decided what we are going to do.
Spending money can be sent with the children but it is not a necessity. If you do however provide your children with spending money please hand it over to a member of staff for safe keeping.
IF YOU REQUIRE A SPACE ON THE TRIP PLEASE BOOK ASAP AS TRIP DAYS FILL UP FAST!
Booking
If you want to book into the holiday club either contact us or print off the booking form and send it to us. You will also need to register your child with us if they are not already registered. You will find the registration form on here as well under the 'forms' heading. The registration form can then either be posted back to us or you can bring it in on your child's first day.
Please note there is a £13.00 non-refundable deposit per trip needed to book in for each of the trip days.
Mobile phones
We have had some children bring their mobile phones in during holiday club, whilst we understand that a lot of children now have phones we are afraid we cannot allow them to be used at the club because of safeguarding. Please could parents encourage their children to leave their phones at home, if however they need to bring them in, for example if they are going elsewhere after club and you need to be able to contact them, then they MUST hand them to a member of staff who will lock them in the tin, the phone will be handed back to the child at the end of their session.
Thank you in advance for your co-operation.